◇ APCU Chairman Jikido Aeba meets with President Trump
On February 22 from 11 am, President Trump made a keynote speech at the Conservative Political Action Conference (hereinafter "CPAC") held at the Gaylord National Resorts & Convention Center in the suburbs of Washington D.C.
This was the second time for President Trump to make a speech at CPAC, following his speech made last year. Fifteen minutes prior to this keynote speech, APCU Chairman Jikido Aeba met with President Trump at the waiting room of the main stage. After hearing about APCU's concept and vision, President Trump commented, "Wonderful! Great idea!" A detailed report is scheduled to be released at a later date.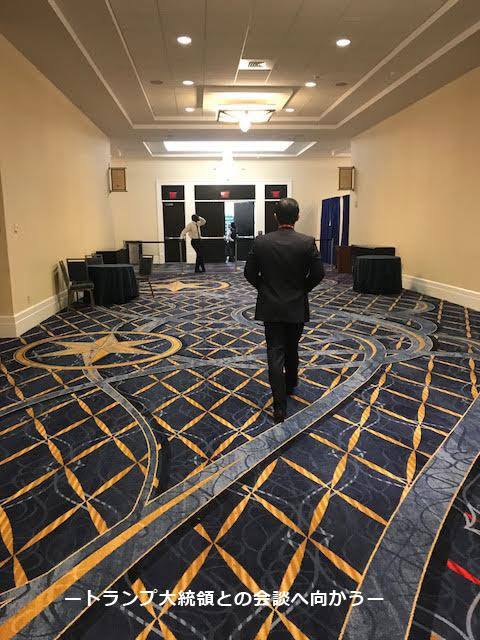 [Heading to the meeting with President Trump]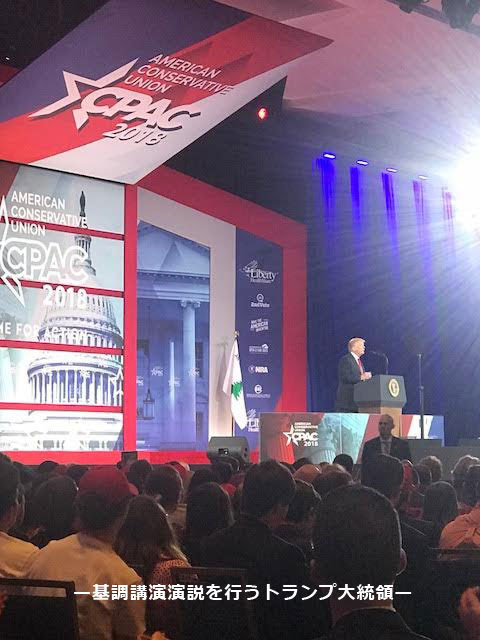 [President Trump making a Keynote Speech]
◇ CPAC2018 BREAK OUT SESSION "The Dawn of Conservatism in the India-Pacific Region" held
ON February 23 from 4 pm, a panel discussion titled "The Dawn of Conservatism in the India-Pacific Region" and moderated by Gordon Chang was held as a CPAC2018 BREAK OUT SESSION.
Moderators: Gordon Chang, The Daily Beast
Panelists: Jikido Jay Aeba, Chairman of APCU
Jeff Smith, The heritage Foundation
At this panel discussion, the threat of China was discussed from the positions of Japan, Taiwan, and Singapore, respectively. When asked by Gordon about the efforts being made by the Abe Administration of Japan, Chairman Aeba explained about the Administration's efforts of the Japan-U.S. alliance, passing of the security bills, and efforts towards amendment of the Japanese constitution. Then he finally went on to respond that it is important not only for security in Japan but also for security in the Asia Pacific region to protect Taiwan from China, and closed his response by stating that we should aim for Conservative movements based on grass roots movements in India, Japan, and the Asia-Pacific nations.